FREE Bodybuilding Workout eBook
Try These Advanced Muscle Building Techniques
And Get Powerful, Huge and Ripped Super Fast!

Enter your first name and a valid email address
for instant access to the free workout ebook.


Lee Priest Bodybuilder
Welcome to My
Lee Priest Tribute Site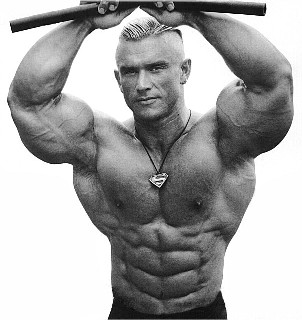 This page is dedicated to Lee Priest. This site was not created by Lee, nor is it in anyway personally affiliated with him. This is just a fan tribute site created as a resource to bodybuilding fans.
Lee Priest also known as "The Blond Myth" is one of the greatest bodybuilders of all time.
Although he is only 5'4" tall he is massive beyond belief weighing 260 lbs in the off season and 215 in contest shape.
He is also one of the youngest bodybuilders of all time to get his IFBB Pro Card at only 20 years old.
Read the Lee Priest Biography, see his pictures in the Lee Priest Gallery and lear more about the Lee Priest Workout and Diet.
Also see Lee on FaceBook, Twitter and YouTube

Feel better and lose weight fast with the best 3 day detox cleanse at bestvitaminsforall.com
Fitness Wear Direct - An American manufacturer of private label fitness clothing and apparel.
If you're looking to add to you home gym the Fitness Warehouse sell some great CrossFit Rigs and the ever popular Assault Bikes at fantastic prices. You can also buy Kettlebells in a range of finishes and weights.